Holiday Cottages
Wake Up Somewhere Special
Most Dog-friendly Cottages
Cottages that are perfect for a holiday with your dogs. They have an enclosed garden and are away from areas with livestock.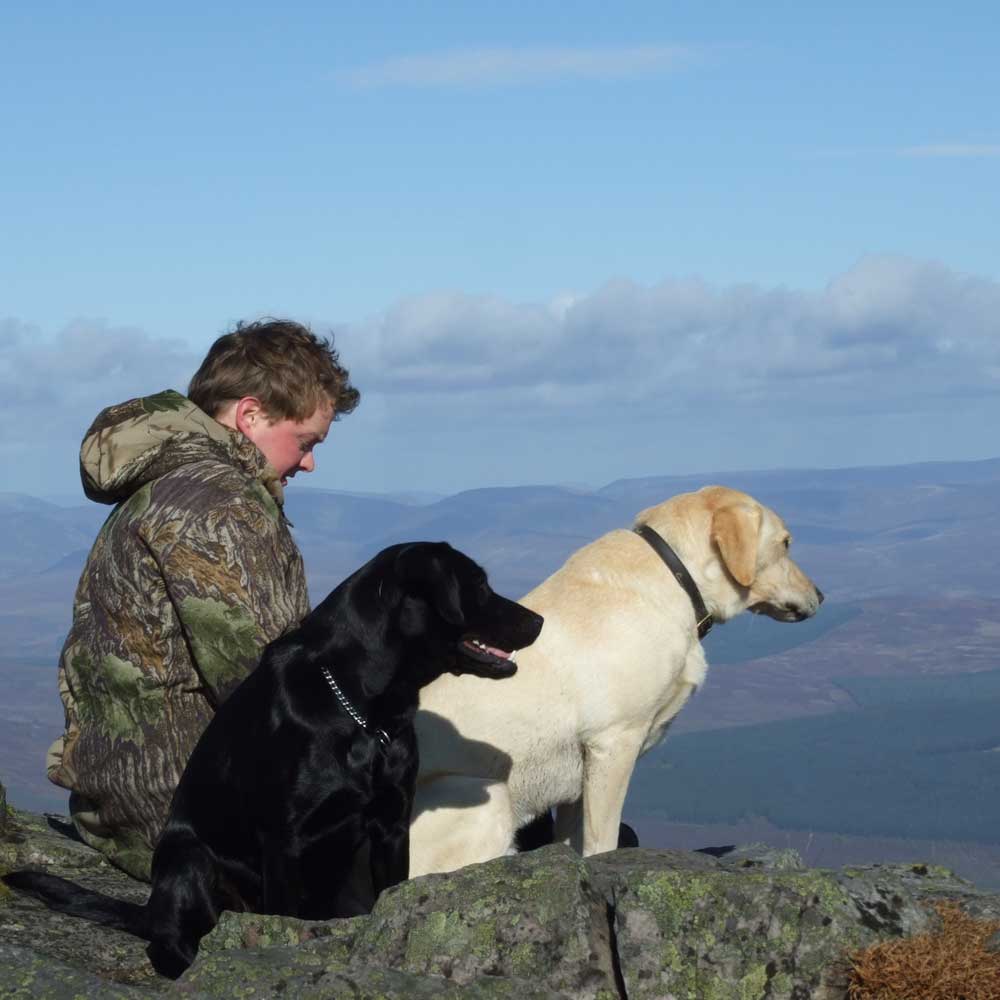 Dunalastair Estate in Highland Perthshire
Situated in the breathtakingly beautiful glen of Rannoch, Dunalastair is a traditional highland estate of around 17,000 acres which has been home to and run by the Bunten/de Sales La Terrière family for 120 years. The current owners, who live on the estate, Ian and Rose de Sales La Terriere, have six grown up children and ten grandchildren.
---
The estate consists of some low ground pasture, extensive hills of heather, including the western half of Schiehallion, pine woods, birch and beech woods and many other native species of trees and plants, as well as some extremely rare plants in sites designated as Sites of Special Scientific Interest.
The farm, run by Finlay McIntyre (of BBC 'The Mart' fame), raises pedigree Luing cattle which thrive in the rougher hill pasture that abounds on the property. There are also around 1300 blackface ewes which are hardy sheep that can live happily in highland hills.
There are wild red grouse on the moors as well as black grouse and wild red deer, and roe deer inhabit the lower ground amongst the willow and birch woods. The estate also has deer stalking and a small amount of grouse shooting.
---
In former times this was the territory of the Robertson clan whose chief in the 18th Century was Alexander Robertson of Struan the great Jacobite highland chieftain and poet. Five clan chiefs are buried on the estate in a beautiful, peaceful, walled graveyard set on a knoll looking west towards the hills of Glen Coe 30 miles away. For information about Clan Donnachaidh which includes the names Robertson, Duncan, Reid and others click on Clan Donnachaidh.
The estate lies in a National Scenic Area between the Cairngorm and Loch Lomond and Trossachs National Parks.
For more history of the estate click here.
Wildlife
This unspoilt estate (featured on BBC Open Country) is the place to see all manner of wildlife from ospreys to red squirrels, pine marten to otters and of course deer, buzzards and red and black grouse, gold finches, Scottish crossbill. There are fascinating ducks, geese and whooper swans as well. It is a great place for bird watching.
Local Clans
Several clans were associated with this area. Particularly such names as Menzies, Macdonald, Cameron, Duncan and Robertson are local to the area and the many graveyards are a source of interesting research, as well as booklets by local historians about the clans in the area. These are available in local shops. There is a Clan Trail around Loch Rannoch and you can pick up leaflets about this in the shops.
Outlander (TV series)
Dunalastair Estate hosts one of the iconic locations for Outlander; where Claire steps into the ring of standing stones. See if you can find it. We can't tell you where...